Somehow the inserts shows up a little bit lucky... after hit #14 & #15
16
17

WOW, enemy capital troops are killeddddd
Deadly!!
17a
Duel of the lead generals between anoobish lvl 100 epic hero vs
ChangRyo's regular hero... and luckily, I won the duel!!! This happened when #17 troops
hit the remnants of defendersI just named him Zhang_Liao, hoping to be a good hero hahahaha
This is the TKO duel animation:
http://s7.tk.koramgame.com/?act=flashfight.main&fid=3743635
18
19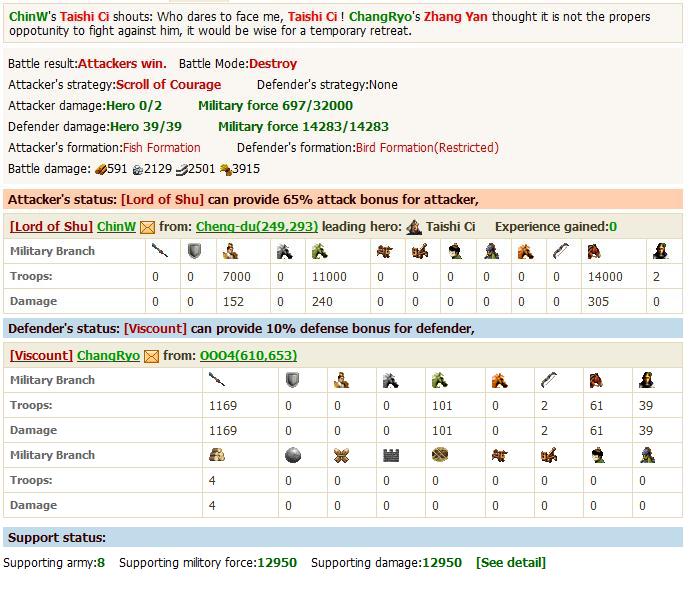 OUCH, defense is zeroed....
I used up about 30 soul heroes there hahahaha

All heroes were beaten!
20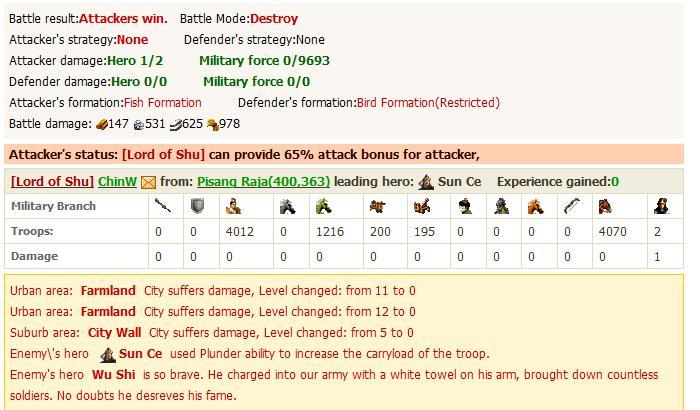 This is FUNNY! Enemy's hero died vs no one. It is said that he attacked
with towel.
22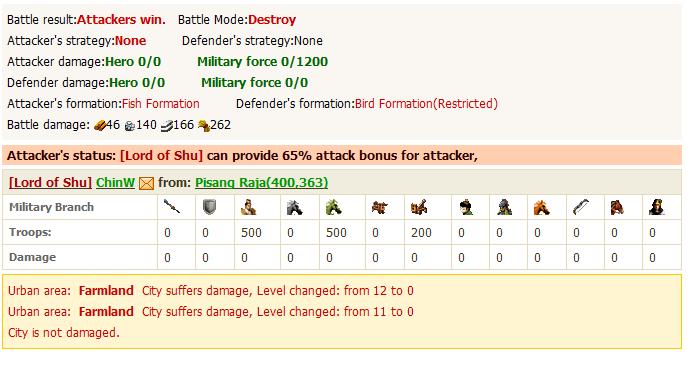 Starting of demo hits....
23
A combined of 9 similar demo groups with results.
By the end of these hits, my main village lost >300 pop, main infrastructures to build
and support troops are disabled.
So, ChangRyo here is retiring. It was fun!!!
For this last defense, I have to refuse some supports, especially if its coming from active and willing
to keep playing people. Timing and logistic were a huge factor to the placement of ambush.
With me defending are XieWangLiang, Kudel, and Brother's troops.
After the 11th hour of server 05/20/2010, I wont be recording any incoming hits for retirement is in
place

Thank you all for playing with RedStar, and me in S7. My villages are given to active players
who are staying in the league, just to prevent conflict of interest.